The Institute of Forage Crops – Pleven /IFC/ was established in 1954 by a decree of the Council of Ministers as the Central Scientific Research Institute for Forage, with its seat in Pleven, for complex scientific and scientific-applied research in the field of forage production. The newly established Forage Institute began intensive research work with annual and perennial cereal and legume forage crops, grass mixtures, succulents and root crops, and scientific research also covered the problems of improving natural meadows and pastures. Scientific developments are aimed at current issues related to the selection of new varieties and hybrids of forage plants, the technologies of cultivation, harvesting and preserving of forages and animal nutrition. A marketing process of new forms of service and implementation of global agricultural practices has started.
During the years of its development, twelve laboratories were created in the Institute, i.e. a comprehensive laboratory complex was built. He continuously supports the scientific developments and research carried out at IFC. After the establishment of the Institute, a Vegetation House was built to conduct scientific experiments under controlled conditions.
From the establishment of the Institute to the present moment, the total number of scientists is 82, with the development of the academic staff reaching 24 professors; 30 associate professors, 49 doctors and 15 doctors of science. As a result of the long-term selection activity at the Institute, 27 varieties were created and recognized in 11 annual and perennial grass and legume forage crops.
The mission of the Institute of Forage Crops – Pleven is to carry out Research activities with the aim of
HISTORY OF THE INSTITUTE OF FORAGE CROPS – PLEVEN The Institute of Forage Crops – Pleven was established in 1954
The Institute of Forage Crops – Pleven, with a well-prepared scientific personnel potential and management structure, plays a remarkable role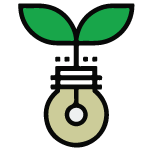 Expert activity, innovation and transfer of scientific achievements in practice and business The expert potential of the Institute of Forage
The Institute of Forage Crops – Pleven has program accreditation for the training of doctoral students in three doctoral programs